Jan Koum, the founder of messaging, leaves Facebook, which had bought the application in 2014. Deep disagreements are behind this departure, the promises announced in 2014 by the social network have not been kept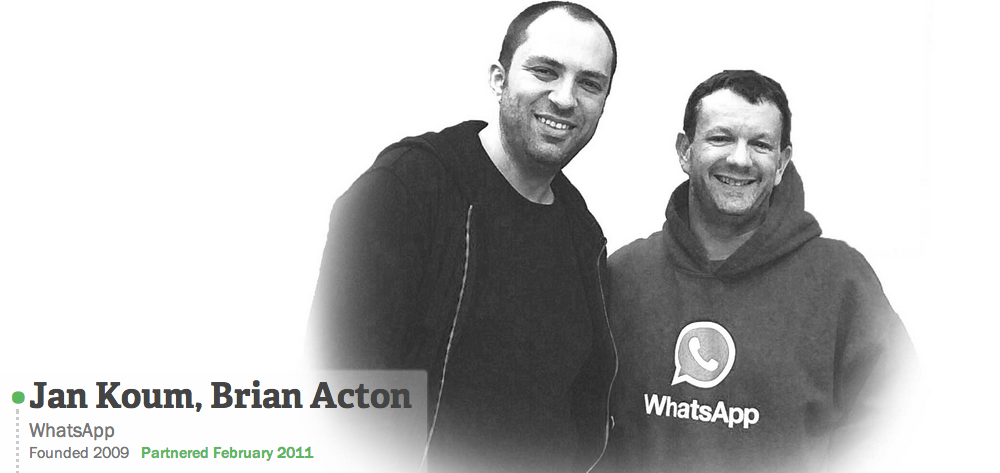 At first glance, the separation takes place amicably. "I'm leaving when people are using WhatsApp in more ways than I ever imagined. The team is stronger than ever and will continue to do amazing things, " wrote Jan Koum on Facebook . Quickly, Mark Zuckerberg replied: "Jan: I will miss working so closely with you. I am grateful for all that you have done to help connect the world. " Jan Koum, co-founder of WhatsApp, announced on the night of Monday to Tuesday that he was leaving all his duties with his company, bought by Facebook in 2014 for 19 billion dollars.
But divorce is in reality not done amicably. Director of Facebook, Mark Zuckerberg has not stopped, in four years, trying to change the strategy and the original values ​​of WhatsApp. With one objective: to earn money with a communication application for smartphones which today has 1.5 billion regular users, at the risk of betraying the basic project of the founders of WhatsApp. Here are the three snakes that they must have swallowed.
1. Sharing data with Facebook
In 2014, during the takeover, WhatsApp had 500 million users, many of whom fear that Facebook would misrepresent an independent application, without advertising and which prides itself on respecting their confidentiality. Co-founders Jan Koum and Brian Acton publicly promise that their app will not share their data with Facebook. "WhatsApp will remain autonomous and will be managed independently," say the two men on their blog.
The reality will be different. Eighteen months later, Facebook is forcing the service to change its terms and conditions to access the phone numbers of WhatsApp users. The social network goes further by using the application to obtain information on the type of smartphone used and its operating system. In particular, Facebook advertisers obtain users' phone numbers and can then send them more targeted advertising within the social network, via the Custom Audience service.
Facebook thus betrays the word of the founders, but also the promises made to the European Commission during the takeover – including that of not "automatically and reliably associating the user accounts of the two companies". The EU condemns the social network to a fine of 110 million euros, followed by several national regulators who impose fines of several million (like Italy) or open investigations (like France).
2. WhatsApp monetization
When WhatsApp is bought out, its annual revenue is less than $ 20 million. She earns money via an annual subscription costing 0.99 dollar imposed on certain users, especially on Android. "Part of Facebook's success has been to digest acquisitions, successfully monetize them and integrate them into its advertising machine," a GBH Insights analyst told The Washington Post on Monday. According to him, there was "a massive culture clash" with the founders of WhatsApp, resistant to any idea of ​​making money – "advertising is an insult to intelligence", wrote Jan Koum in 2012 .
WhatsApp still does not display ads. But the application is evolving. In January, the WhatsApp Business service was launched, allowing companies to create a profile and send messages to their customers. In parallel, the application allows since early 2018 to its 200 million Indian users to send money. It is possible that the departure of Jan Koum could encourage Facebook to display advertising directly within WhatsApp, as it has been doing since summer 2017 within Messenger via sponsored messages.
According to the Wall Street Journal , Brian Acton (who left in November 2017) and Jan Koum have clauses in their contracts to "speed up" the latter if Facebook inserts advertising in the application. The newspaper does not specify what "acceleration" it is, but it certainly concerns their stock options , which they can convert into shares in November. Jan Koum and Brian Acton together hold securities worth more than $ 3 billion.
3. Encryption
In 2016, WhatsApp was one of the first messaging apps to encrypt end-to-end communications. Without physical hacking of the smartphone, it is not possible to read the messages – even for WhatsApp, says the company. Since then, most competing applications have reached a similar level of security. According to the Washington Post , to develop the WhatsApp Business service, Facebook would like to lower the level of encryption, which Jan Koum considers unacceptable.
---
Telegram blocked in Iran: information cannot be stopped, says minister
Iranian Telecommunications Minister Mohammad Javad Azari Jahromi said on Tuesday that it was "impossible to block citizens' access to information", the day after a court order ordering the blocking of Telegram messaging in Iran. These comments posted on the minister's Twitter account reflect the differences of opinion between Iranian leaders on the issue of control of the internet. On the one hand, the government advocates a policy of openness, on the other, the ultra-conservatives, who dominate the security services and the Judicial Authority, firmly oppose it.
Iranian justice ordered on Monday all internet service providers and telephone operators to "completely block access to Telegram", encrypted messaging which Tehran accuses of hosting armed opposition groups or violent or to encourage the action of criminal groups. Internet crime chief among others accused Telegram on Monday of failing to cooperate with authorities in the trial against 26 people accused of being involved in the claimed IS attacks which killed 17 people in Tehran on June 7, 2017.
Telegram, which claims 40 million users in Iran – roughly one in two – is the country's most popular social network, where Facebook and Twitter are also blocked, but accessible using a VPN (private network) software to circumvent censorship). With regard to Telegram, the courts have ordered that access to the network is not possible with a VPN.
"It is impossible to block citizens' access to information sources," writes Azari Jahromi on his Twitter account, "even if the use of software is prevented, other software will be found and information will start to flow freely again ". "The technique is intrinsically neither guilty, nor corrupt, nor deviant. It's human beings who misuse it who promote crime and corruption in the virtual world, just as they do in real life, which is inevitable, "he adds. -he.