An anti-inflammatory food is a food that puts very little strain on the pancreas during digestion, both in its production of insulin to manage blood sugar levels and in the digestion of fats and proteins. Conversely, a "pro-inflammatory" or "inflammatory" food overburdens it.
After the holiday season, a diet too rich in refined sugars and saturated fats can promote a chronic inflammatory state. Fortunately, certain anti-inflammatory foods allow you to counter the effects of inflammation and avoid stomach aches and other digestive inconveniences …
THE GINGER: THE KING OF ANTI-INFLAMMATORY FOODS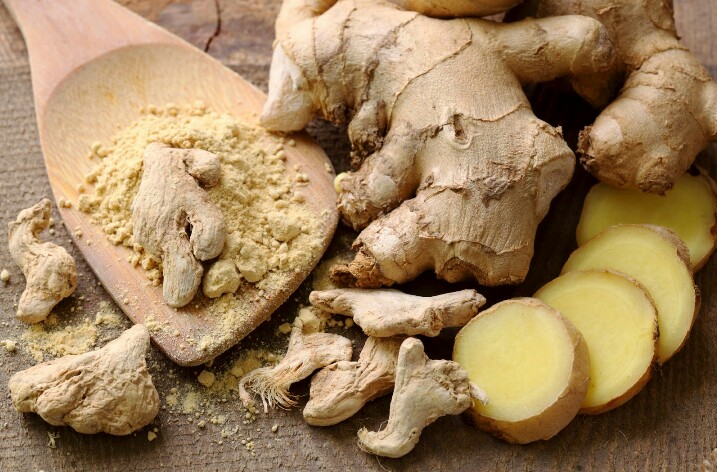 Researchers attribute the health benefits of ginger to gingerols, antioxidant, anti-inflammatory and antibacterial compounds. According to many studies, these compounds block several genes and enzymes in the body that promote chronic inflammation. Also note that fresh ginger is the richest in gingerol. So choose ginger shots or infusions of freshly grated ginger.
RED PEPPER
Red pepper is an anti-inflammatory superfood. Indeed, of the three colors of peppers, it is the richest in vitamin C and it represents an important source of beta-carotene and luteolin. Beta-carotene is associated with the prevention of certain cancers, as well as reducing the risk of joint pain. Finally, luteolin has been shown to neutralize free radicals and reduce inflammation.
OLIVE OIL
Rich in Omega 9, a monounsaturated fatty acid, olive oil also contains oleocanthal, a polyphenol that reduces inflammation by inhibiting pro-inflammatory enzymes. However, be sure to choose a cold-extracted virgin olive oil because only this process guarantees the richness in polyphenol of the oil and to consume it organic, with a single-country origin (and not a blend).
BEET
In addition to being rich in flavonoids, beets are a unique source of betalaine, a pigment with powerful antioxidant and anti-inflammatory activity. In addition to fighting inflammation, betalaine revitalizes metabolism by positively influencing the mechanism of insulin resistance.
CURCUMA: THE MOST EFFECTIVE OF ANTI-INFLAMMATORY FOOD
Curcumin, the active ingredient in turmeric, has powerful anti-inflammatory and antioxidant properties. In fact, curcumin directly inhibits the activation of inflammatory reactions by stopping the production of pro-inflammatory enzymes. For this reason, curcumin is believed to be responsible for a range of health benefits, ranging from preventing heart and liver disease to reducing the pain associated with arthritis.
TOMATOES
Tomatoes are an excellent source of lycopene, an antioxidant that protects the brain in particular from inflammatory reactions. As lycopene is mainly present in the skin of tomatoes, you will get more of it by using cherry tomatoes rather than a normal size tomato. And if you are not a fan of tomato salads, be aware that cooking increases the lycopene concentration of fresh tomatoes. Whichever you choose, savor them organic with a little olive oil, which has been shown to increase the absorption of fat-soluble lycopene.
GREEN TEA
The anti-inflammatory properties of green tea come from catechins, a group of antioxidants concentrated in the leaves of tea plants. And the most powerful of all catechins is found almost exclusively in green tea. These anti-inflammatory properties have also been implicated in the prevention of the development of skin cancers.
PINEAPPLE
Pineapple contains bromelain, an enzyme that acts as a powerful anti-inflammatory. In particular, bromelain has been shown to reduce asthma symptoms or relieve inflammation after strenuous exercise. Although all parts of the pineapple contain bromelain, it is in the central part that it is found in the highest concentration. Since the heart is a little more fibrous, we recommend incorporating it into your smoothies.